WELCOME TO AMISHA
This is a WWW server running at Gunther Schadow's workplace at the Pragmatic Data, LLC
---

Where to go from here?
Current Contents
This is a transitional and personal web front only preserving information that is either timeless or of historical interest. For all current activity of Pragmatic Data LLC, please go to our main website.
Contents of Historical Interest
---
Featured topic: The issue of software patents affects you!
---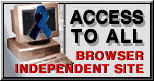 ---
---